FMS 1:18 Chevrolet K10 RC Car RTR Red FMS11808RTRRD
FMS 1:18 Chevrolet K10 RC Car RTR Red FMS11808RTRRD
---
Product Description
1/18 CHEVROLET K10 - A Legendary Vehicle Has Come Back to the RC Tracks!

Every Chevrolet truck has its own story behind it. Pickup trucks have always been an American car culture and the symbol of the American spirit. This was until GM's brought a new set of naming principles - the C for rear-wheel drive and the K for four-wheel drive in their all-new lineup of Chevrolet pickups.

With a tailgate that lowers the loading height, a spacious cab and a sunken frame, FMS'new 1:18 CHEVROLET K10 adheres to the revolutionary "square body" and features a perfectly replicated K series in terms of 4wd, metal beams, aluminum frame rails and reliable multi-link suspension system.

RC model pickups with hard plastic bodyshells are rare and precious, when mostly SUVs dominate the area. The large cargo space and retractable tailgate makes it easy to carry all kinds of 1/18 simulation parts such as motorcycles, kayaks and various camping equipment.
Specifications
Battery:20.5 x 51 x 15mm
Transmitter:152mm x 75mm x 167mm
Model Vehicle:323.8 x 139 x 130.7mm
Ground Clearance: 37.7mm
Tire: D:54.8mm ,W:19.5mm
RS Box: 330x 265 x 605mm
Approachangle:58.8°
Departure angel:6°
Highlight
Officially Licensed Product Of Chevrolet-GM
Classic Metal Plating Wheels And Truck Tires
Metal Plated Glass Lens Rearview Mirror
Scale Replica Of 1974 CHEVROLET K10 With Injection-Molded Hard Body
Metal Plating Grille, Front And Rear Bumpers
Detailed Cargo And Bottom Plates As Well As An Openable Tailgate
Spectacular Anti-Abrasion And Anti-Scratch Coating Ensuring Brightly Colored Scheme
Sunken Frame And Metal Ladder Girder
High-Performance Four-Wheel Drive Axles
High Torque Climbing Ability With FDL 84:1
What's in the box
1 x 1/18 CHEVROLET K10 RTR
1 x 2.4GHz Radio
1 x 2-in-1 Receiver / 20A ESC (installed)
1 x 050 Brushed Motor (installed)
1 x 1kg Plastic Digital Servo (installed)
1 x 7.4V 380 mAh Battery
1 x USB Battery Charger
1 x Hex Wrench Socket
1 x Product Manual
Need to Complete
Specification
Radio Control: 152 x 75 x 167mm, 160g (Battery not Included)
Model Vehicle: 323.8 x 139 x 130.7mm, 560g(Battery not Included)
Tire: D:54.8mm , W:19.5mm
Wheel Base: 196mm
Ground Clearance: 37.7mm
Approach Angle: 58.8°
Departure Angle: 34.6°
Driving Speed: 5km/h Max
Remote Distance: 80m
Play Time: 30 minute
Weight :
Transmitter: 160g (Battery not Included)
Model Vehicle: 542g(Battery not Included)
Battery: 6g
RS Box:21kg(One Battery included)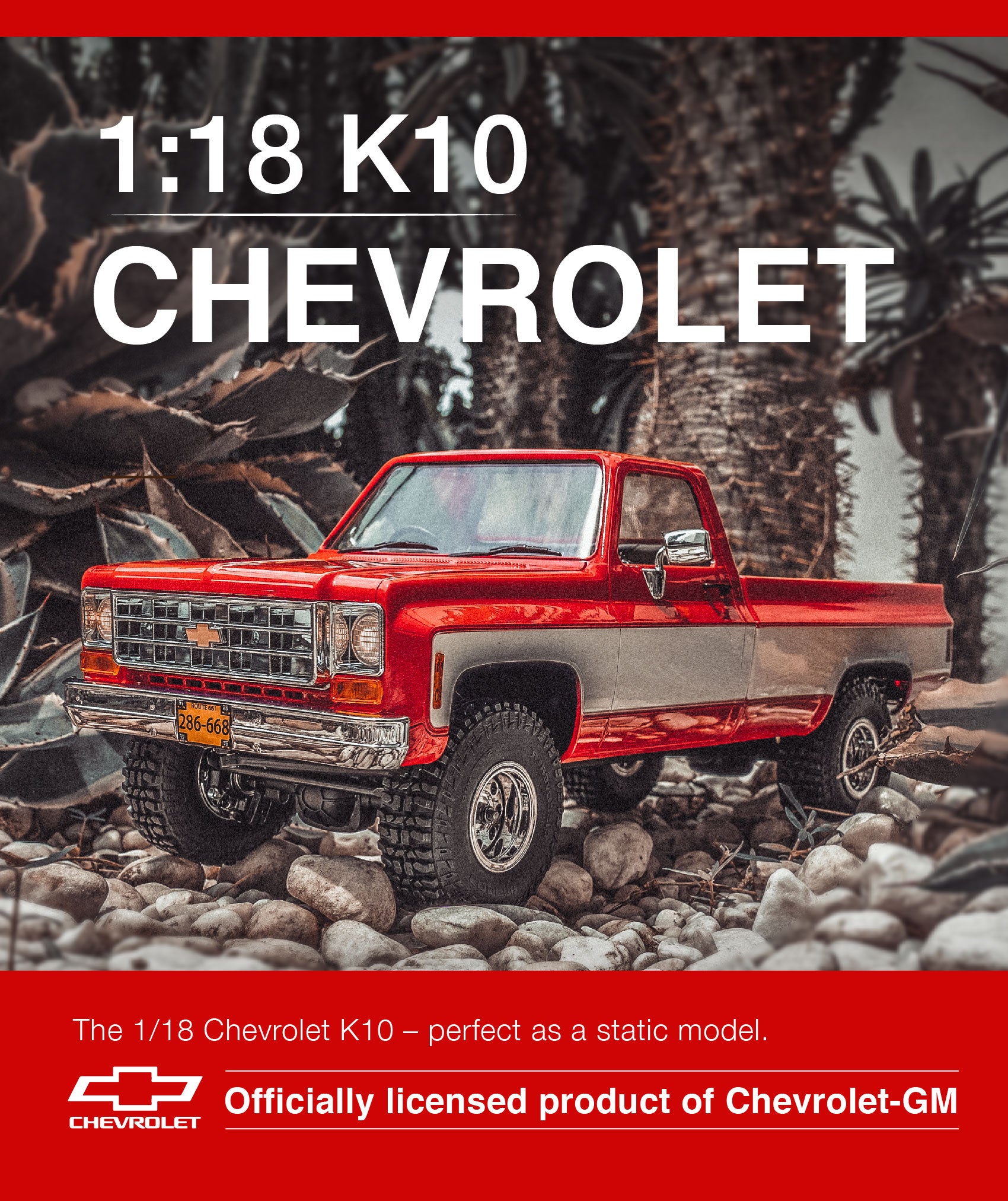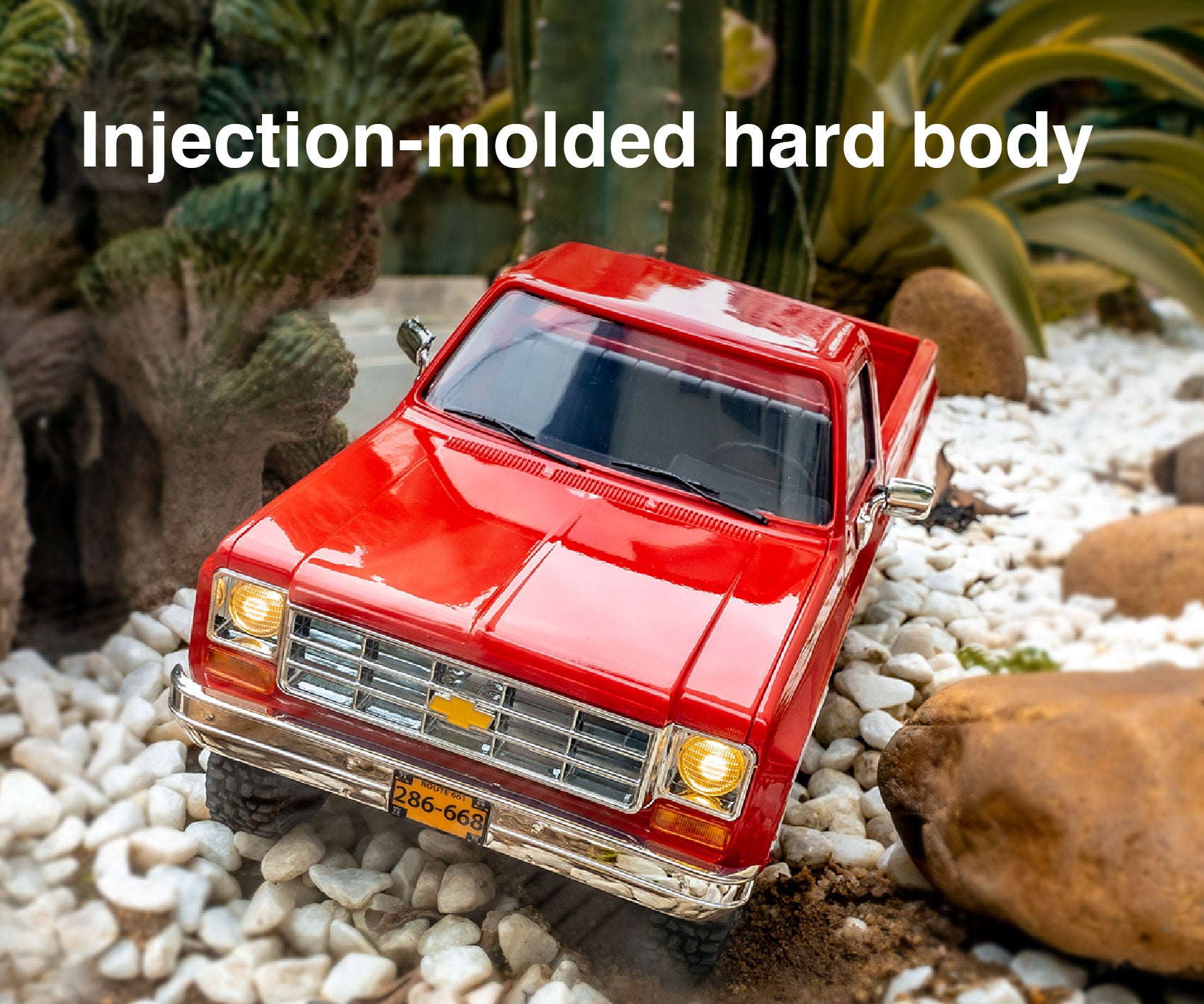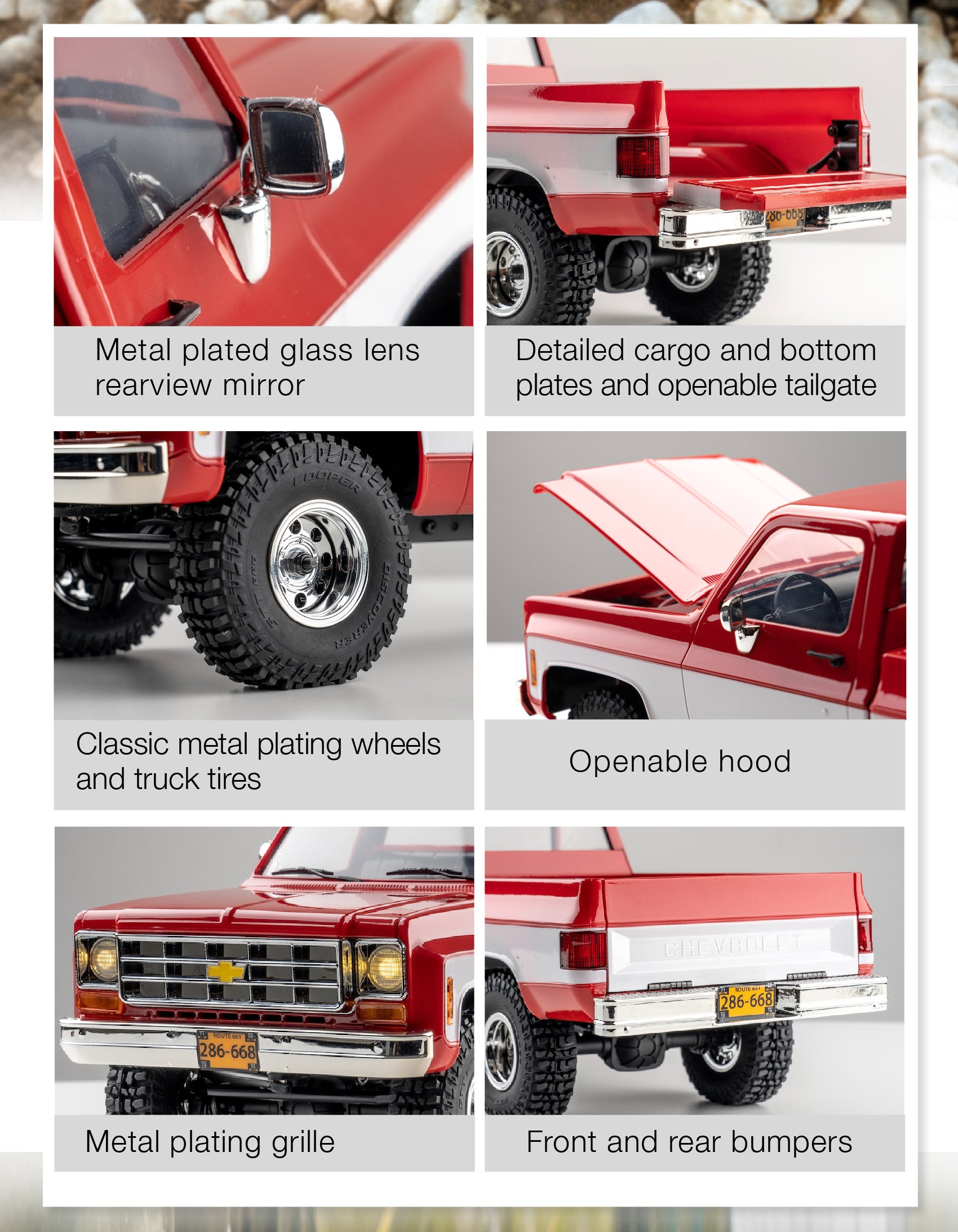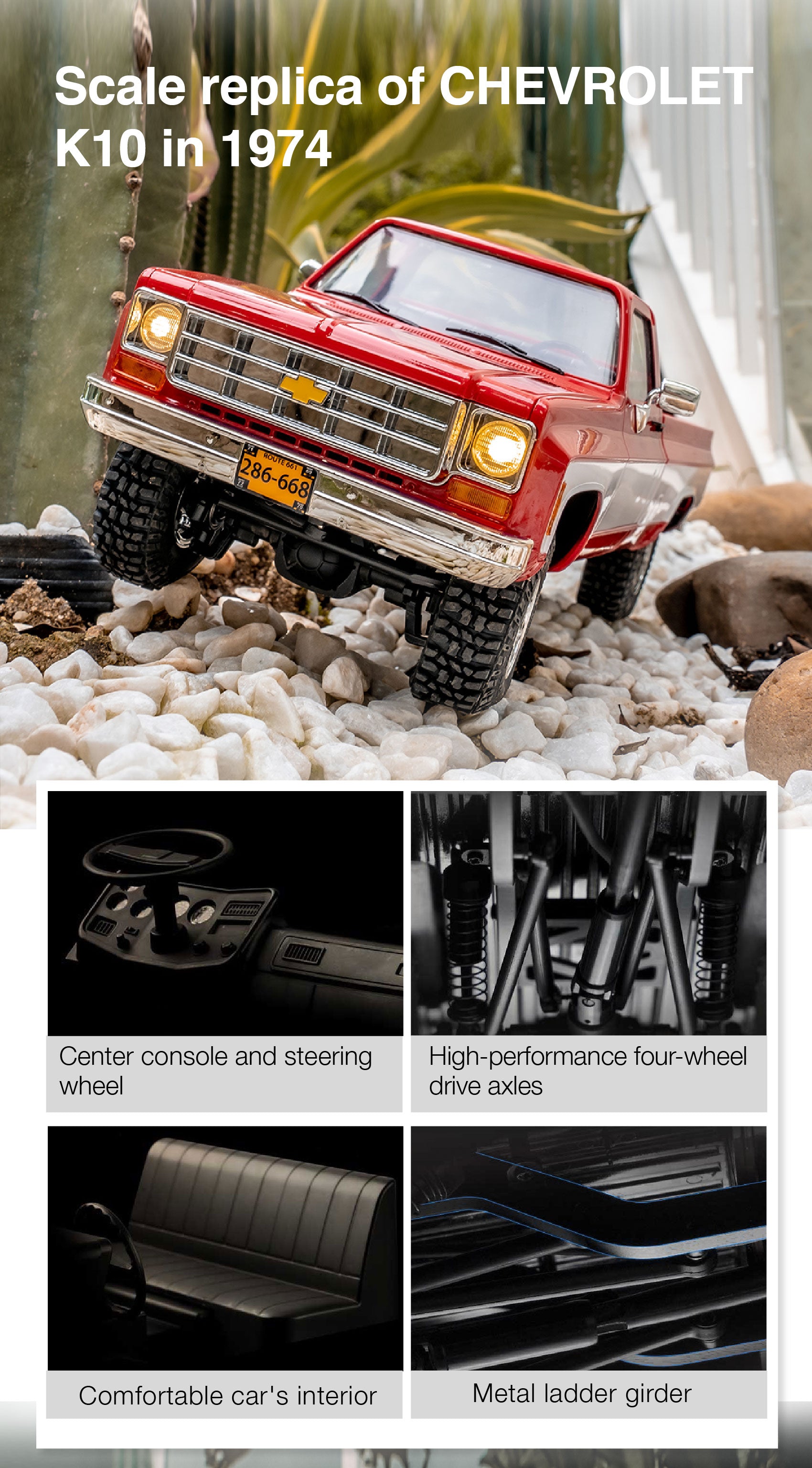 ---
Product Videos
FMS Chevrolet ...

✨Get more information of the FMS 1:18 Chevrolet K10 at: https:...
---
Find Similar Products by Category
---
Customers Who Viewed This Product Also Viewed